street furniture and smart city
TECHNOLOGICAL AND USEFUL SOLUTIONS FOR THE CITIZENS
Canavisia covers a wide range of sectors, ranging from retail to industry, up to the development of technologies for cities.
Thanks to the experience developed from data analysis in the industrial and energy fields, Canavisia has developed a line of technological solutions designed to make the real objects of the city and provide useful services to people. Our solutions include the analysis of environmental parameters, energy consumption and usage data that can be stored and shared in the cloud.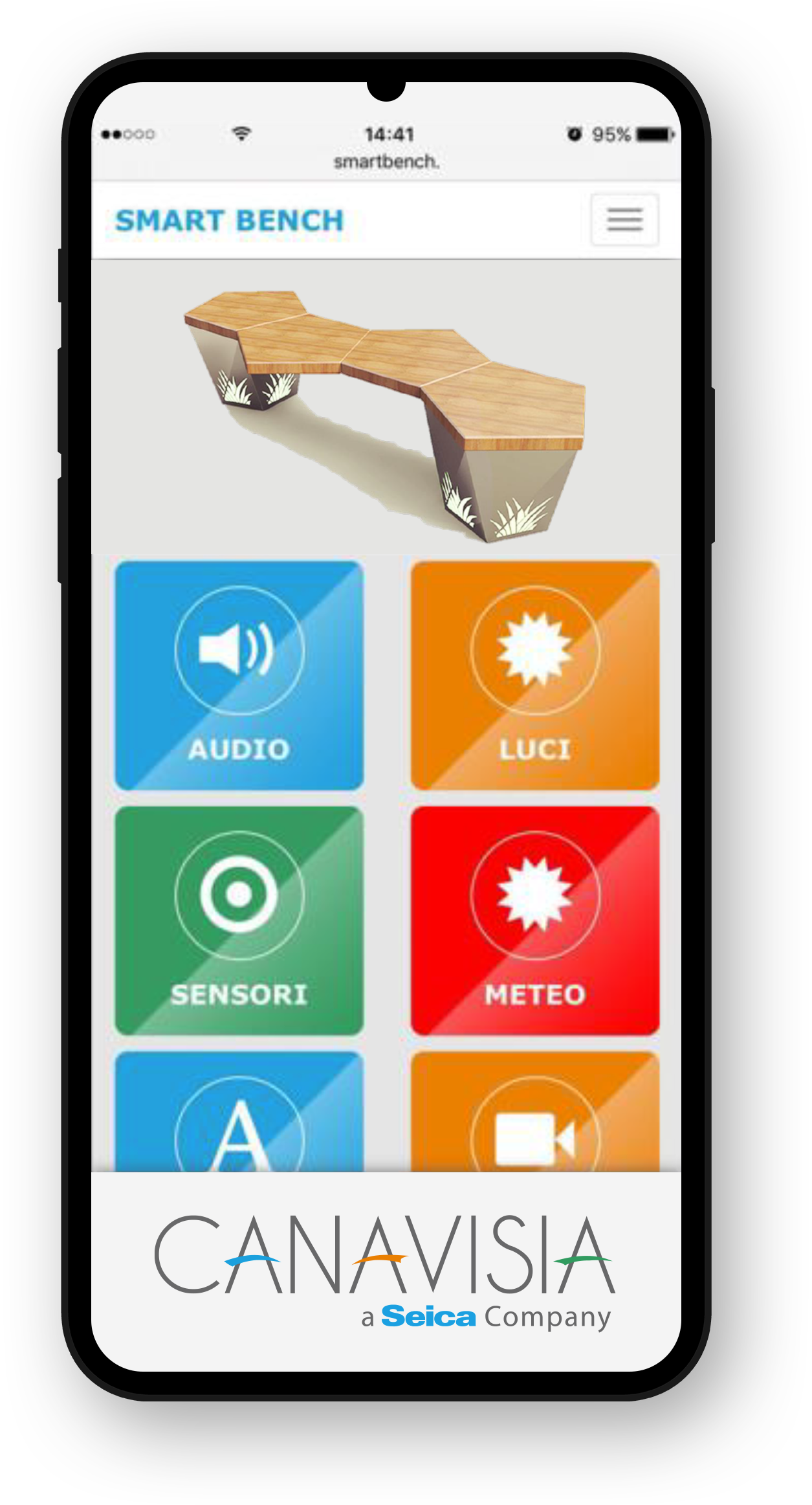 The revolution in street furniture
Smart benches are designed to meet the new and everchanging Smart Cities and Smart Living needs. Design is one of the fundamental elements characterizing our furniture: we sought the collaboration of emerging designers, we went beyond the schemes and we used the collaboration of local suppliers and artisans to develop our models with a  made in Italy imprint
Not only does Canavisia revolutionize the way we furnish public spaces, but gives them life with integrating technologies that can collect data, provide infos, improve the environment and provide useful services for the City of the future. The bench models are characterized by the refined design, high-quality and eco-sustainable materials and the possibility to customize the details of the structure and the technological equipment.
Over time we have made several successful installations in different contexts between municipalities, institutions, museums and fair events.
Canavisia is available to create new models or study new features based on customer needs.
Bluetooth Low Energy technology
CanaInfo are small devices that, through Bluetooth Low Energy technology, transmit identification codes to smartphones and tablets, with an adjustable range from 10 centimeters to 70 meters. The sensors are matched with a dedicated app for configuration and use. CanaInfo allows to convey any type of information and contents such as photos, videos, documents, questionnaires, surveys, and much more, to carry out proximity marketing campaigns.
They are quite affordable and very simple devices with a battery capable of lasting years. Canainfo can be placed in strategic points such as tourist routes where they can provide users with useful infos such as the route to follow, the recommended stops, information relating to the places and tourist attractions that can be encountered.
Canavisia is an accredited supplier on the Public Administration's online purchasing portal.
Thanks to MEPA, it is possible to optimize public purchases of goods and services by rationalizing public spending and simplifying the supply and purchase processes, in an innovative and transparent way
emergenza sanitaria covid19
Automated and non-invasive system for access monitoring and contro, in order to regulate people-flow in enclosed spaces in compliance of the rules of social distancing.
Hundreds of installed system throughout Italy